From staff reports news@joplinglobe.com
Jul 19, 2018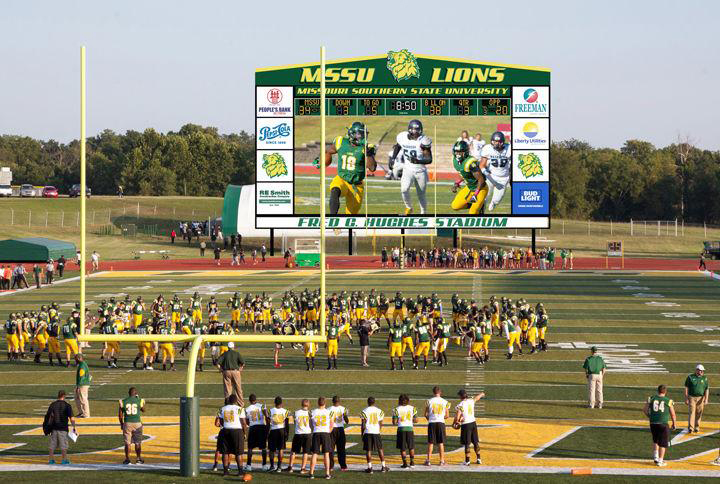 A photo illustration of the new video board which is under construction on the south end of Missouri Southern's football field.
Courtesy | MSSU
Missouri Southern State University on Thursday unveiled plans for its new video board for Fred G. Hughes Stadium.
The board will be 63 feet high and 90 feet wide — the third largest in all of NCAA Division II athletics, according to MSSU officials.
A scoreboard will be stripped across the top, with a full-color video display beneath it. The video display will be 30 feet high and 66 feet wide with more than 718,000 pixels. A built-in sound system is also in the works.
The $1.3 million project was funded by private donations on the video board, a Nevco product. Scott Boudreaux, president of the Missouri Southern Foundation board of directors, said at Thursday's press conference inside the North End Zone Facility that the board will be ready for use in time for the Lions' first home football game on Sept. 8.
"No tuition dollars or state funding is being used for this project," Boudreaux said.
Major corporate donors include Freeman Health System, Liberty Utilities, Missouri Eagle, People's Bank of Seneca, PepsiCo and R.E. Smith Construction Co.
"The athletic expression is, 'go big or go home,'" Boudreaux said after the press conference. "Our student athletes are worthy of being highlighted on game day in a positive and creative manner."
MSSU's incoming video board will be the third largest in Division II and second in the MIAA.
Grand Valley State leads the way with its board spanning 78 feet high and 138 feet wide. It was built ahead of the 2016 season. In the same season Missouri Western showed off its large video board at a display of 38 feet high and 90 feet wide, passing Pittsburg State's 'Jungletron' as the conference's largest. PSU's video board, which debuted in 2008, is 40 feet tall and 70 feet wide.
"It is a great day," MSSU head football coach Denver Johnson said to the crowd. "I'll tell you, we're geeked up and excited about this, and it's great to see so many people here and involved.
"I got up this morning and had a sense that this was a tipping point type of day for our program."
The university also plans to use the video board for public movie nights and other community events.